Strings, Pipes, and Loud Clashing Cymbals! 
So what's with all these cartoony musicians I keep plastering all over social media?
Thanks for asking. There is a bit of a backstory for why I do so many musical images, especially since I'm known more for kid's illustration in Christian publishing. First of all, for those who contract with me in Christian publishing, please know that I'm not leaving the mission, I'm still available. Also know that since I don't parse between sacred and secular things (the Earth is the Lord's and all that is contained therein), I hope these whimsical instrumentalists play some small role in kicking back brokenness and imagining a future where the likes of Psalm 150 is the unending soundtrack.
I do make these to sell on my http://www.cafepress.com/toonware shop. Here's how it all came about.
ToonWare
Some years ago I had some spare time between assignments and was doodling at the board. I came up with a goofy looking trumpet player. I took the pencil sketch into Adobe Illustrator and drew up a silhouette image. I liked him, so I played with creating some more. By the end of the day I had several musicians. They looked like something that should be on T-Shirts. I got in touch with some printers, but was intimidated by the prospects of becoming a t-shirt warehouse and distribution center. The idea of paying upfront for cartons of shirts didn't appeal to me.
But I still liked the images and thought they might have mass appeal.
One night at the Guild (The Saint Louis Artists Guild) I shared this idea of T-Shirts with a fellow member and he told me to get on Cafe Press. This was about 15 years ago, and I was completely unaware of this print to order site. After registering the copyrights with the Library of Congress, I opened my ToonWare online shop and and was off and running.
Until this year, all images were in the silhouette style; usually black, red, or white. Other colors are available, but these three are the big winners. Recently I started to introduce a new set of images in these full color, quirkier drawings of various players. I may open a second store geared entirely for kids, since these are a bit whackier than the already whacky original ToonWare. Some have accompanying critters whistling, or keeping beat, like the finger snapping dog and bird. I think kids like finger snapping birds and dogs. I know I do.
Musical Wannabe
Why musicians?
Well everybody likes music, right? I'm also a guitar player. Not a professional, gigging, recording, guitar player. I'm a stay in my basement, amateur guitarist. Not too bad, some say pretty good, but certainly not a pro and I wouldn't be wired to make a living at it. Too much lugging stuff around and my gigs would have to end by 6:30 in the evening so I could watch Wheel of Fortune with Judy. The fact is a lot of people my age learned to play guitar, drums, keyboards, or horns. St. Louis, where I live, as you may know, is a very musical city. It's in the geographic groove of Memphis, Kansas City, and Chicago, all of which, along with St. Louis, are important in the history of Blues, Jazz, and Rock and Roll. Chuck Berry still lives here, Scott Joplin was from here, and Miles Davis was from across the river in East St. Louis.
Our public high schools were filled with fantastic student musicians. Compared to a goodly number of my friends, I was more of a wannabe. I became better as years went by, but as a teenager I was quickly passed up by some very talented and dedicated peers. That didn't bother me, because art was my driving ambition. I liked playing in bands to a degree, but if it took time away from making art, then the guitar was going to collect dust. Also my natural sense of color was much better than my sense of rhythm.
That's not to say I don't enjoy plugging in the Telecaster just about every day for some scales and fantasy concerts. From time to time I reconnect with old friends for some basement gigs and we have a blast. Those get togethers are worth missing Wheel of Fortune for, though the concerts still ends much earlier than the ones we used to attend at the Kiel Auditorium, Fox, American, and Ambassador Theaters in St. Louis.
Whimsy Notes
The background music playing while I type is KCSM, a San Fransisco Jazz station that I stream. The texture, color, and freedom of Jazz appeals to me. I've written before about the jazz sensibility in some modern art, Stuart Davis in particular. I like to keep a sense of joy in these images and since the bulk of my work is for kids, I like to make them youthful and simply fun. I'm usually geared toward creating a graphic image, where negative and positive shapes play into each other. For instance, those geometric bits of blue poking around the musician above, around his guitar, arms, and legs, are as important to me as the primary image. The noodle arms of the drummer further up, and the nose of the bass player dipping into the upper horn of the guitar and reflecting the opposite shape of the plucking thumb, are all intentionally graphic and add to the whimsy, even if they aren't immediately noticed.
Throw in a finger-snapping green swallow, and the fun, I hope, is contagious. I know swallows aren't green, but hey, that's called improvisation.
Blue Notes
Musicians are often portrayed as troubled souls. Many of them were. Saxophonist Charlie Parker, and trumpet player Chet Baker quickly come to mind, not to mention a boatload of rock musicians who came to early ends because of their excessive lifestyles.
The Blues are all about life's miseries. Blues music, however, is a means of grappling with pain and putting sorrow to song. Most Blues songs I know are meant to be a balm to the soul. It's cousin, Jazz, while sometimes melancholy, usually strikes me as upbeat, joyful, and reorienting. There is something very special about that New Orleans tradition of a mournful Jazz band playing in a funeral procession, and then in turn, breaking into joyous rapture for the after cemetery party.
I can't make a strong case that there is an intentional eschatology behind that musical tradition (sorry, the big word there means the study of last things, like death), but it would not surprise me if there were.
Here's the thing, Music is one of those indicators that we are made for something more than being a collection of bouncing atoms. If someone tells you that you are nothing more than a pulsating blob of chemicals, with no particular significance or purpose other than to inhale and exhale until you conk out, tell them to put on John Coltrane's Naima, Bach's Jesu Joy of Man's Desiring, The Bee Gee's To Love Somebody, or Johnny Cash singing September When It Comes with his daughter Rosanne.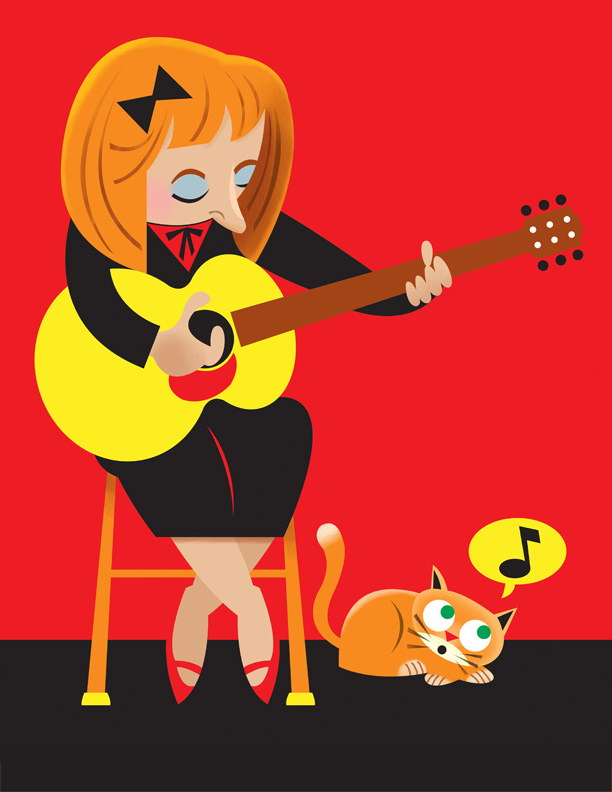 High Notes
We moan, and squeal, we rock and reel, because we have something deep inside telling us things aren't the way they are supposed to be, but still we have some strange and wonderful idea that things are supposed to be great. If you are ever inclined to read the Bible, hold the spine in your hand, put your thumb right in the middle of the leaves, and open it to 150 of the most beautiful, thoughtful, resentful, mournful, hateful, hopeful, loving and joyful songs put to pen. It's all there. Every cry of the soul, every gut wrenching wail to the heavens, every unashamed shout for joy.
Music is soul stuff.
The music we make matters. This isn't about what music currently is good or bad. It's about the fact that we do it. It's about the sure hope that one day every dirge will give way to a polka, a jig, some Klezmer zaniness, a rap or a  raga that will march into a new heaven and new earth where our Creator makes his dwelling with his creatures.
Maybe that's what those New Orleans mourners and merry makers are getting at.
While I won't deny that I like selling my ToonWare, because I have no problem with making my living using the skill God has given me, I mostly like turning up the whimsy and pointing to that future where the Psalm 150 style of music never ends.
I wonder if there will be a drum solo?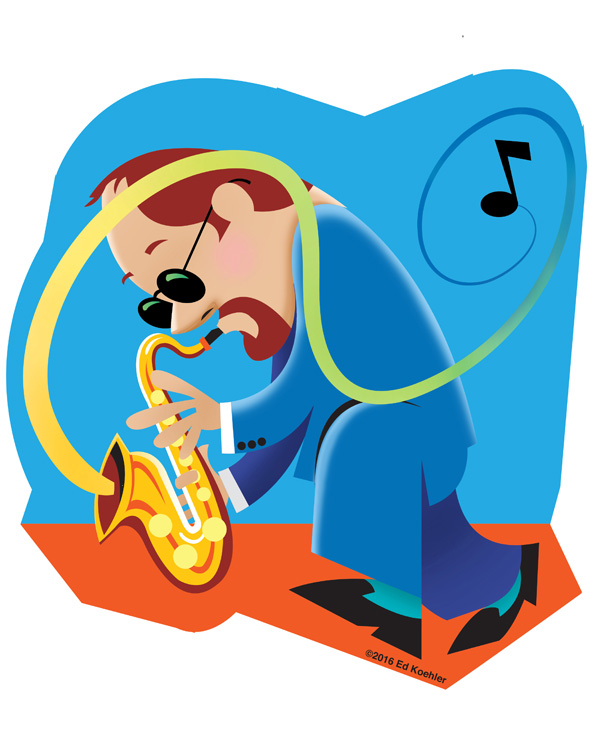 All images ©2016 Ed Koehler